02 Dec

Festive Drinks

Ah, the festive season… when we're gathering, socializing and celebrating. Here's something a little different than we'd normally share in our blog but since it's that time of year, consider this our little gift to you, our readers, for some inspiration for the holidays.

These are three of my favourite drinks to serve around this time of year, from three of some of my favourite food bloggers. I can assure you I've made each one, several times, and each are delicious! I hope you'll enjoy!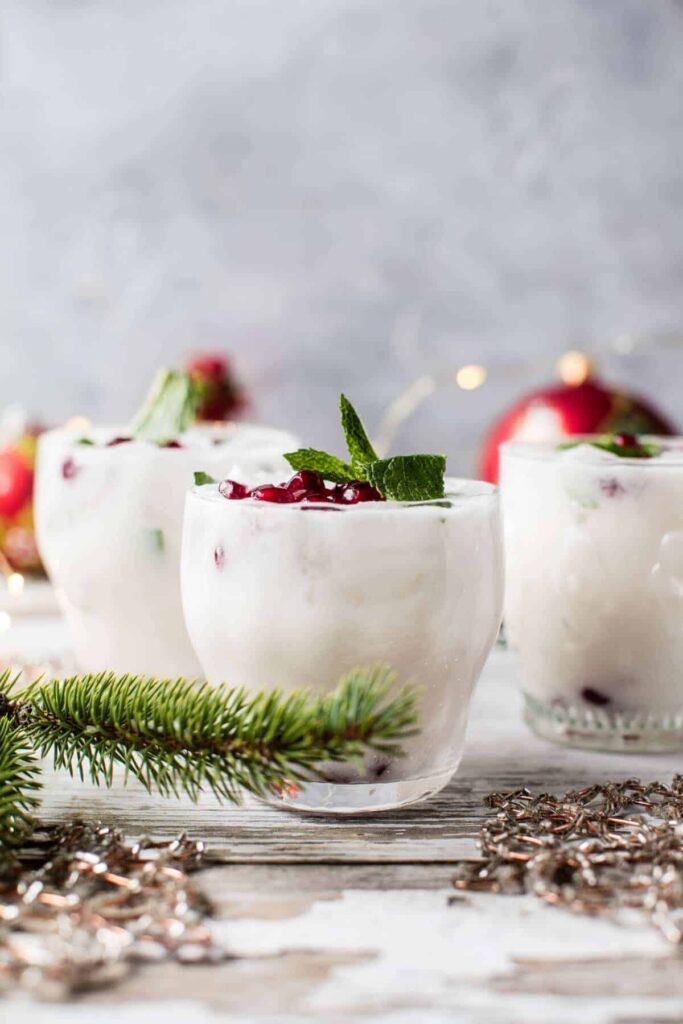 Here's a delectable and the perfect holiday drink by one of my faves, Half Baked Harvest. It is creamy, coconuty (it's not a word, but it sounds good with these adjectives), and fizzy. And it looks as gorgeous in its presentation as it tastes! This one really sets the festive tone!
juice of 1 lime
8 mint leaves
1 tablespoon sugar
2 tablespoons white rum
1 tablespoon coconut rum
1/4 cup canned unsweetened coconut milk
sparkling water for topping
pomegranate arils for serving
In a glass, muddle the lime juice, sugar and mint leaves until the leaves have broken down. Fill the glass half way with ice.
In a blender, combine the white rum, coconut rum and coconut milk and pulse until smooth. Pour over the ice and stir to combine. Top with sparkling water, mint and pomegranate and salute your guests! Drink and enjoy!
Half Baked Harvest
I know, I know… the holidays are busy enough… do you really want to make cola? But hear me out… first, since we're so extra anyway during this time of year, why not? Second, it's not your typical cola. It might be better! The spices and flavours really lend itself to festive drinks, plus it provides a non-alcoholic option. Or just simply add a shot of your favourite spirit! There might be a lot of ingredients, but once you've put the effort into gathering them all, it all comes together very quickly! Oh your guests are going to be so impressed!
2 cups white sugar
2 cups water
2 tablespoons brown sugar (I use dark)
Finely grated zest of 1 very large or 2 small/medium oranges
Finely grated zest of 1 lime
Finely grated zest of of 1 lemon
2 teaspoons coriander seeds, crushed in mortar and pestle
1.5 teaspoons dried lavender
4-5 sections of a whole star anise
1 vanilla pod, split
1/2 cinnamon stick
1 piece cassia bark (Costco or any specialty spice or gourmet shop should carry this)
1 teaspoons freshly minced ginger
1/4 teaspoon citric acid (I found this at Bulk Barn)
caramel food colouring (optional, I didn't use this)
Soda water to add later (see instructions)
Place all ingredients EXCEPT soda water into a medium to large saucepan and bring to a boil. Then lower heat and simmer for 20 minutes. Cool, and dilute by adding soda water. NOTE: I personally chill the 'concentrate' before adding the soda. Then pour a bit better than half into a highball with lots of ice, add the soda, and give it a quick stir.
Not Quite Nigella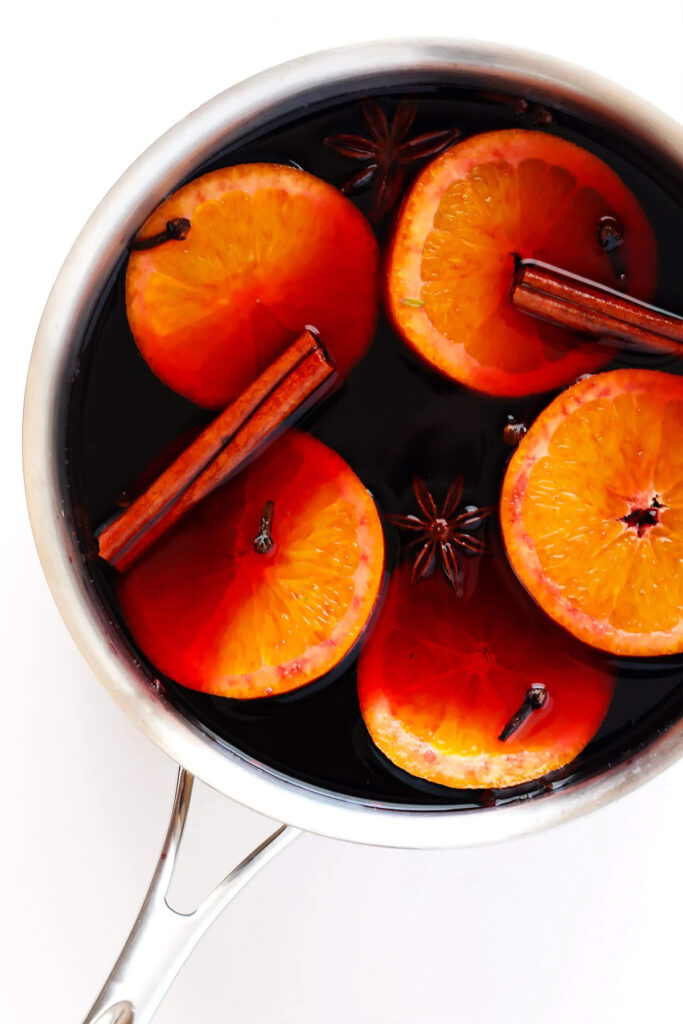 Hot mulled spiced wine by a fire… is there anything more wintery and cozy? I think not! This is a huge crowd favourite and I know there are many versions around, but this is my go-to recipe. It's actually kind of simple but perfectly so! So make it, get your fleece on, cuddle up and enjoy!
1 (750 ml) bottle of dry red wine
1/4 cup brandy (or orange liqueur. My favourite is Grand Marnier)
1 orange, sliced into rounds (also peeled, if you would like a less-bitter drink)
8 whole cloves
2 cinnamon sticks
2 star anise
2 to 4 tablespoons sugar, honey, or maple syrup to taste (or your desired sweetener)
optional garnishes: citrus slices (orange, lemon and/or lime), extra cinnamon sticks, extra star anise (In my opinion, don't omit! It makes the drink!)
Combine ingredients. Add wine, brandy, orange slices, cloves, cinnamon, star anise, and 2 tablespoons sweetener to a large saucepan. Stir briefly to combine.
Simmer. Cook the mulled wine on medium-high heat until it just barely reaches a simmer. (Avoid letting it bubble — you don't want to boil off the alcohol.) Reduce heat to low, cover, and let the wine simmer for at least 15 minutes or up to 3 hours. (you can also use a slow cooker and just let the amazing aroma waft through your home all afternoon!)
Strain. Using a fine mesh strainer, remove and discard the orange slices, cloves, cinnamon sticks, and star anise. Give the mulled wine a taste, and stir in extra sweetener if needed.
Serve. Serve warm in heatproof mugs, topped with your favorite garnishes.
Gimme Some Oven